Cross-selling has long been the Holy Grail of marketing in the financial services industry. But thanks to the recent scandal at Wells Fargo, in which employees at the banking behemoth allegedly opened 2.1 million fake accounts for clients in order to meet sales quotas, cross-selling has found itself in the middle of a political and public-relations crossfire.

Just because Wells Fargo had to pay $185 million in fines (so far) and CEO John Stumpf had to forfeit $41 million of compensation, that doesn't mean financial services companies should forfeit the idea of marketing new services to existing clients. Newsletters can be powerful tools for educating clients about other services that you offer. (And to our knowledge, no one has ever had to endure a grilling on Capitol Hill from Sen. Elizabeth Warren because of a newsletter.)
How to Use Newsletters to Cross-Sell
Newsletters can provide myriad marketing benefits for financial services firms, including strengthening relationships, staying top-of-mind with clients, and generating referrals. But one of the best things about newsletters is that they can be a low-pressure, "non-salesy" way to introduce clients to other services that your firm offers. Rather using one-on-one meetings to ask clients if they have a need for any additional services (which can seem pushy and erode trust) or incentivizing sales reps to push other services (which, as Wells Fargo showed, can lead to bad behavior), a firm should consider using its newsletter to showcase the different types of value it delivers for clients.

Let's look at three different sectors in financial services to see how a newsletter can support a firm's cross-selling efforts:
Private Wealth Management:

Many private wealth management firms provide comprehensive financial planning services but struggle with convincing existing clients to expand the relationship beyond basic portfolio management and retirement planning. A firm in this situation could use its newsletter to profile clients across the firm who are using those other services. Client profiles are great tools for

showing

your clients the value of your services, as opposed to just

telling

them about that value.



One month the newsletter could profile a couple who has young kids and recently set up 529 Plans to save for their college educations. The next month the newsletter could profile a client who founded a successful company and is using estate planning techniques to pass shares of the business to his children in a tax-efficient manner. The following month the newsletter could profile a client who set up a donor-advised fund to help her family support charities that are important to the family.


Institutional Asset Management:

Many asset management firms start with one flagship investment strategy and then gradually expand their lineup of strategies and products. While building brand equity around one flagship strategy can be valuable in the firm's early stages, breaking out of that box can be challenging. Many firms struggle with being pigeonholed – in the minds of institutional investors and consultants – as "just a U.S. fixed-income shop" or "just a small-cap growth manager."



These companies should be using their newsletters to highlight the capabilities of managers in other strategies. For example, the newsletter could have a "Market Spotlight" section that examines trends and valuations in various asset classes. One quarter this section could focus on emerging markets, and it would be written by the firm's emerging markets portfolio manager. Then in subsequent quarters, the spotlight could be on large-cap U.S., high-yield bonds, or whatever other asset classes the firm wants to showcase.


Accounting:

Tax preparation is the bread-and-butter of most accounting firms, but many provide valuable services beyond simply preparing and filing taxes. This is especially true for firms that work with small businesses. Many times, the client relationship will start with just tax preparation, but the real value comes when – and if – the accountant is able to expand the relationship to encompass cash-flow planning, strategy related to pricing and compensation, and other issues that growing companies face.





To inform its client base about these services, the firm could have a recurring "Ask the Accountant" or "FAQs" section where the accountants answer common questions that business owners have about non-tax-related issues. In addition to adding value to the client relationship by providing free advice, this approach also will encourage clients to engage the accountants to help them think through those issues.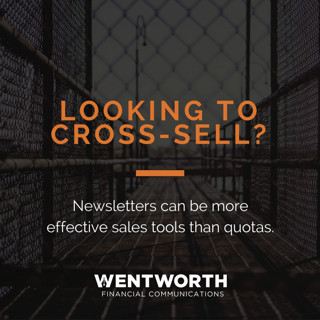 Despite the beating that Wells Fargo has been taking, cross-selling is not dead. And it's not inherently bad for clients. In fact, in many cases, your clients would benefit greatly from using more of the services you offer. The challenge that financial services firms face is how to educate clients about those services in a way that doesn't seem pushy or disinterested in what's best for the client. Many of the industry's most successful firms have found that newsletters are an effective way to overcome this challenge.

---
About the Author

Scott Wentworth is the founder and head writer of Wentworth Financial Communications. He's helped firms across the asset management, private wealth management, investment banking, estate planning, accounting, insurance, and legal industries write and publish newsletters. And, wouldn't you know it, WFC also publishes its own newsletter, Return On Content. Subscribe to get monthly tips on using newsletters, white papers, and other forms of content marketing to connect with clients.