Speaking events are viewed as the Holy Grail of Business Development in the financial services and legal industries. Bankers, portfolio managers, financial advisors, and attorneys will travel great lengths and pay huge sponsorship fees just to land coveted spots as speakers at conferences attended by their target audience. Unfortunately, many speakers end up leaving a lot of money--and potential clients--on the table at speaking events.
That's because speakers often don't come to conferences equipped with a strategy for turning their time at the podium into an inbox full of new prospects. Fortunately, e-books have emerged as a very effective tool for doing just that.
How Do E-books Increase Your "Prospect Yield" at Conferences?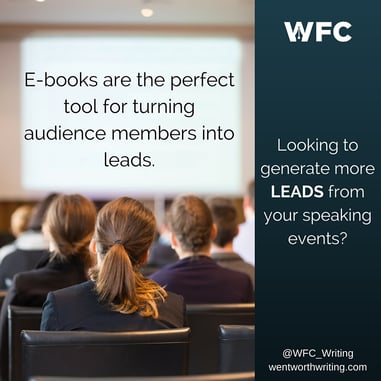 If you've ever given a speech at a conference or luncheon, you know what happens once
your presentation ends: A few brave audience members come up to you afterwards; they ask you the question they were too shy to ask during your Q&A session; you give them your business card; and maybe they end up emailing you. Meanwhile, the rest of the audience--many of whom are the exact sort of people you came to the conference hoping to meet--hurry off to the next session.
So how do e-books help you increase your "prospect yield" from speaking events? If you have an e-book--which essentially is a hybrid of a white paper and a slide deck (more on that later)--on the topic that you're speaking about, you can invite the audience to email you or visit your website, where they can download the e-book. This gives the audience a reason to reach out to you if they are interested in learning more, and it gives you a way to gather their contact information. This is a lot more effective than trying to chase down everyone in the hallway after your presentation so that you can exchange business cards.
Another benefit of offering an e-book that summarizes your presentation: it prevents the audience from having to furiously write down notes or awkwardly take pictures of the screen at the front of the room so they can capture the info on your slides.
What is an E-book?
E-books--in the context of financial services marketing--are 10- to 40-page PDFs that are intended to serve as "how to" guides for your clients and prospects. For example, an accounting firm might publish an e-book about "how to set up a qualified retirement plan for your employees." A private wealth management firm might publish an e-book on "how family businesses can manage succession planning."
Here are two examples of what an e-book looks like:
Northwestern University - Spiegel Research Institute's e-book: The Consumer Engagement Engine

Full disclosure: Northwestern University is a WFC client.
The easiest way to understand e-books is to picture a document that tries to combine the best features of a slide deck and the best features of a white paper. While slides often have great visual aids that highlight the main ideas of a topic, slides don't provide a narrative that walks the reader through the story. White papers, on the other hand, often have the opposite problem. White papers tell a full narrative story, but they are so technically dense that it is difficult for a reader the wade through the entire thing and quickly grasp the main ideas.
Imagine a small business owner seeking tax guidance on how to set up a retirement plan for their company. A slide deck on the subject would read like a collection of unconnected dots without the necessary context, and a white paper would provide so much detail that it would overwhelm the reader. An e-book, however, borrows from both, mixing visual appeal, subject authority, and a conversational narrative with actionable solutions.
Do You Have Enough Content to Write an E-book?
If you have enough material to deliver a 30-minute speech on a topic, then you have more than enough to publish your own e-book. Remember, your e-book isn't intended to be an exhaustive manual on all of the technical details of a subject. (If your goal is to showcase your technical expertise, then a white paper is better vehicle for doing that.) Rather, your e-book is intended to, in a conversational tone, answer your clients' or prospects' most pressing questions:
What do I need to do?

How do I do it?
If your e-book can successfully guide a reader through these questions, it will give the reader confidence that you are the type of advisor they want to work with.
One of the easiest ways to strengthen your e-book is to incorporate graphic elements, such as charts, lists, and images with pullout quotes. By distilling complex topics into a format that readers can easily digest, these reader-friendly visual cues are vital to the success of your e-book. For example, if you're writing about retirement planning, rather than simply listing all of the states that lack a state income tax, you may want to include a map or infographic that shows the most tax-friendly states for retirees. Graphics like this will help bring your e-book to life.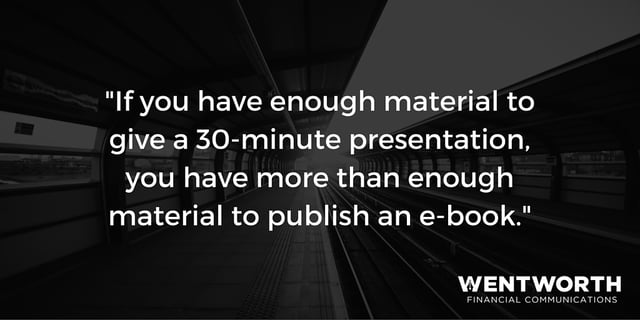 I wrote my e-book, now what?
Effective content marketing is 50% creating quality content and 50% knowing how to distribute that content. Speaking opportunities at conferences and luncheons are perfect opportunities to promote your e-book, but there are lots of other ways to get mileage out your investment in an e-book.
The next time you land a golden speaking opportunity, be sure to plan ahead about how you can maximize the number of prospects you can generate from the event. One of the smartest ways to do this is to take the slides that you're planning on presenting and converting them into an e-book. If you do, there's a good chance that you'll return home from the conference greeted by an inbox full of download requests from new potential clients.
---
About the Author

Scott Wentworth is the founder and head writer of Wentworth Financial Communications, a firm that creates content marketing and thought leadership for financial services firms and law firms. WFC has helped companies proactively communicate with clients about rule changes and other news affecting client relationships.