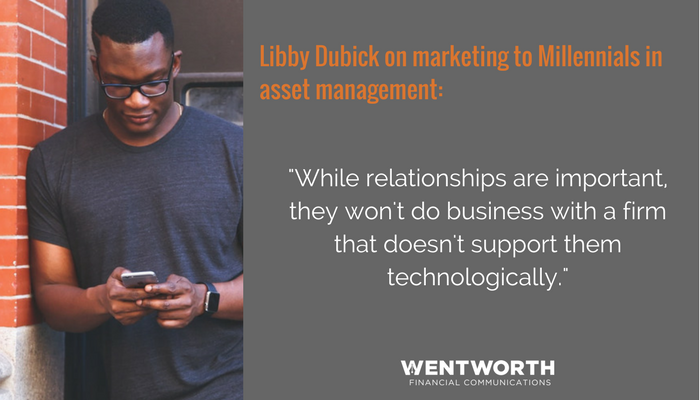 With Millennials set to inherit an estimated $40 trillion from aging Baby Boomers over the next several decades, it's no surprise that asset management firms have spent a tremendous amount of energy trying to figure out how to crack the Millennial code.
While most of the research into marketing to Millennials, the generation born from 1980 to 2000, has focused on how they differ from previous generations in terms of their spending habits, communication styles, investment priorities, and media-consumption habits, one investment marketing professional urges asset managers to start by understanding what Millennials have in common with older generations.
Libby Dubick, the head of an agency that helps financial services firms optimize their marketing and distribution strategies, said that there are many important similarities between Millennials and older generations—and these similarities have important implications for how asset managers market to Millennials. Like older generations, Millennials say that family is their top priority, are moderate in terms of their risk tolerance, value expertise when selecting a professional advisor, and will need more financial advice as their lives get more complicated.
Despite these similarities, Dubick said that there are, indeed, significant differences between Millennials and older generations that financial marketers should be aware of. In terms of how they spend their money, Millennials value experiences over owning material goods. When it comes to what types of messages and brands resonate with them, authenticity trumps nearly all other characteristics for Millennials.
"These have important implications for financial services firms," Dubick said in her presentation to fellow asset management marketing professionals at PAICR's 2017 annual conference in New York City, where the theme was "Build. Measure. Learn. Repeat. Agile Marketing in the Age of Disruption."